The Lone Wolf Ice Bar, Newcastle
Over the last 12 years we have hand carved thousands of ice sculptures for events up and down the UK.
Each of these ice sculptures disappears within a day of them being put on display. Over a decade's worth of seriously hard and incredibly intricate work has flowed back to sea, leaving only photographs and memories behind. This is the cost of carving something in such a beautiful and mesmerising material!
So it should come as no surprise that when we were approached to design and create the Lone Wolf Ice Bar in Newcastle, we were very excited about the idea of having our work suspended at minus 8 degrees, so that hundreds of people can experience it over a 3 month period. This sort of semi-permanent ice exhibition was something new to us, but it was a challenge we couldn't turn from.
Ice bars are one of our favourite types of ice features to work on and I do believe we have mastered the concept over the last 12 years. We've had the privilege of carving some fantastic bars at incredible events up and down the UK, we've even set one up on the roof of a hotel at the Cannes Film festival. We install the ice bar a couple of hours before an event begins on drainage tanks to collect the run off melt water and then we return at the end of the event to safely break down and remove the remaining ice.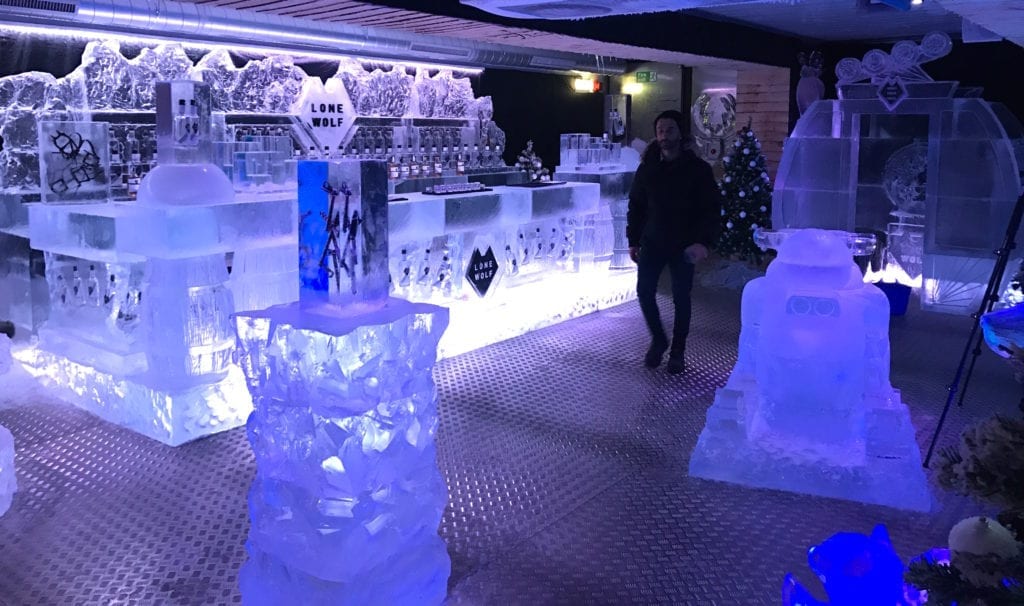 We have always considered the functionality of the bar just as important as the aesthetic. Mixologists need all their ingredients and equipment close to hand so they can shake up some amazing cocktails with flair, and our clients need to promote their product or brand with a huge dollop of 'wow factor'. With that in mind, we include ice bottle holders to chill real bottles inside and perspex platforms to place glasses on, so they don't just slide off the slippy ice surface. We also need to design them so that they remain structurally sound during the melting process and last for the full event.
Building the bar for the Lone Wolf Ice Bar was a joy. The Lone Wolf logo is a simple yet strong design and I was able to reflect it in the bar design. We also encapsulated their Lone Wolf bottles within the ice as well. Knowing the ice structure wasn't going to melt enabled us to create a complex back bar with many shelves and display stands to both promote Lone Wolf and give the bar staff plenty of room for stock, glasses and ice cube and ice shot glass moulds. We have carved beer barrel ice sculptures in the past and I knew it would help add to the Alpine theme.
This project was confirmed in November 2018. By that time, all the ice block suppliers in the UK had sold all their ice blocks to other companies for other winter projects. We needed over 200 blocks for the whole exhibition (that's approximately 24 tonnes of ice). We do produce our own ice blocks, but there was no way we could grow that many blocks before the following 17th January when the install would begin. This meant we needed to look further afield and we ended up buying the ice from a company in Belgium. The upside of this was that these Belgium blocks are made in slightly different machines so, unlike our blocks which are slightly tapered and need a lot of prep work to make flat, the Belgium blocks are perfectly squared off so we could take them straight off the pallets and start building ice walls.
The 24 tonnes of ice needed to be transported to the UK and stored somewhere off site and then delivered to us in Newcastle, 5 tonnes at a time. There was a lot organising to get it right. We are always very busy in November, December and January. We do Ice trails in Perth, Darlington, Burnley, Stockport, York and Durham. In total that is around 130 individual hand carved ice sculptures, as well as many individual Christmas parties and winter weddings. The Lone Wolf Ice bar project was going to be on top of all this and it almost stretched us to breaking point. Once again it came down to our incredible team and not only did we accomplish everything we set out to do, we absolutely smashed it!
Once the Perth, Burnely, Darlington and Stockport Ice trails were all completed by early December we started working on the Lone Wolf Project. Big Mat was the only one who didn't work on the Lone Wolf Ice bar. He was locked in a freezer working entirely on his own, chipping away at the 50 individual sculptures for the York Ice Trail – but that's another story…
We made most of the actual bar here in Liverpool. We created 20 blocks of ice with real items suspended inside. We floated vintage crampons, ice skates, snow shoes, climbing rope and ice axes in blocks of ice to use as decoration within the exhibition. Real items always look great floating in ice and we knew this would fit well with the Alpine/Apre Ski theme. We also created a life size snow-mobile that people would be able to climb on, as well as a huge throne for people to pose for photos on and we prepared several logo ice sculptures. This work took about 4 straight weeks of preparation before we travelled up to Newcastle.
We started the install on 17th Jan and it had to be ready for the opening night on Friday the 25th Jan. It was a tough 9 days for the team, more like doing one of the competitions abroad than the usual work we do here in the UK. Nine, long 11-hour days in minus 10 degree temperatures; moving, shifting, lifting and carving 24 tonnes of ice is gruelling work. You just have to keep eating and keep moving! Once again I was as proud of our team as I was of the work we produced.
Marcus and Pierre worked tirelessly on erecting the ice walls, seating areas, ice bar and ski gondola. As Big Mat was so busy preparing for the York Ice trail, and I needed to keep my eyes on every aspect and tiny detail of the Lone Wolf install, we needed to find another high level sculptor to join the team and carve the wolves, skier and stags. Big Mat had been to a wood carving festival a couple of years back and had met a very talented chainsaw carver called Danny Thomas. We invited him to join us on the Lone Wolf project and he did not disappoint for one second. The speed that that boy can chop a wolf out of a stack of ice was incredible; another fantastic addition to the extended Glacial Art family.
We were finished with lots of time to tidy up and dress the bar. Simon did an incredible job of the LED lighting and the opening night was a huge success. The management and staff at Stack are an amazing bunch of people and they looked after us so well. If you are visiting the Newcastle anytime soon I can't recommend Stack enough for great vibes, amazing food and drink, fire pits, live music and, of course, the Lone Wolf Ice Bar will be open until the end of April 2019.