Game Of Thrones Call On Glacial Art
After eight years of perfecting their sculpting skills in the city of Liverpool, Glacial Art Ice Sculptors – who have previously worked with many well-known brands including Rolex, Gucci and Bentley, and have won first and third place prizes for the UK in the European Ice Sculpting Championships – have finally made their progression into the world of television and film; and the results are spectacular.
Mat Foster and Matt Chaloner met at Sunderland University, where they both studied Model Making and Design before they moved to London where they worked on a number of sculpting projects. While Mat primarily worked with food companies, where he once made "2000 spoons with fake ice cream stuck to them for a Ben and Jerry's promotion", Matty C was lucky enough to be taken on as an apprentice with a London ice sculpting company almost immediately. In this time he perfected his art while Mat continued to expand his skill set, designing the space-age suit for Angelina Jolie's character in "Sky Captain and the World of Tomorrow", and contributing a 34 foot baseball bat to an exhibition by Yoko Ono.
Four years later, the duo found themselves in Liverpool where Matty C began to impart his ice sculpting skills to Mat, who had never carved before in his life, only sculpted in clay and wax where more can be added on. "Carving is incredibly hard to master," he told us. "Eight years on and we are still getting better every day." Ice is not only a constantly-changing material, but attaching extra ice can be incredibly problematic; as they would go on to find out! During this time they worked for a huge variety of major companies, created bespoke pieces for weddings, worked on installations around the country and entered worldwide ice sculpting competitions representing England. Despite not having the luxury of picking and choosing their work, they have been lucky and talented enough to work on interesting jobs, which has helped their company to become a leading specialist in their field – according to Mat, "bigger and more exciting enquiries are coming in every day now."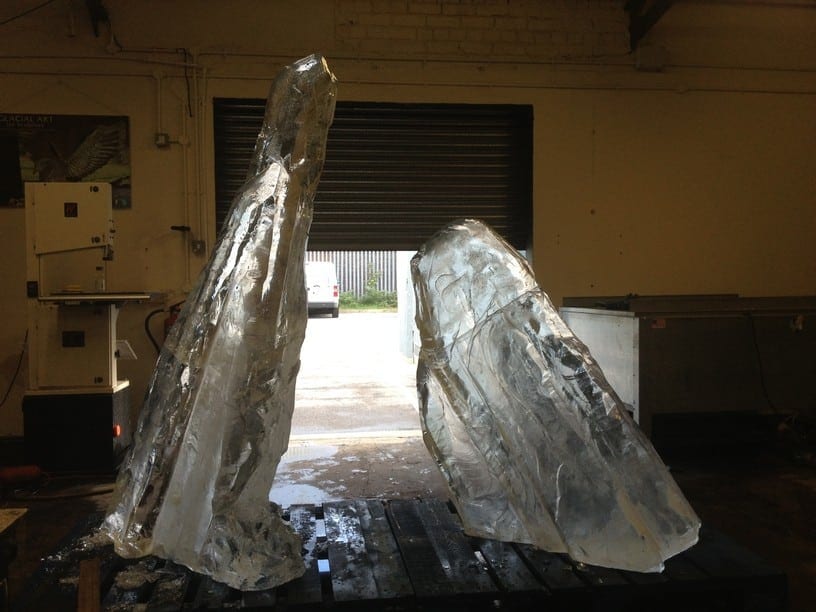 "Manmade but natural" ice spikes
Having always wanted to enter the world of movie-making, the Matts were thrilled when eight years after the beginning of Glacial Art they were given the opportunity to work with the hugely successful TV series Game of Thrones. Having been fans of the original books and the series, this job was a massive breakthrough for the Glacial Art team who knew this "wasn't a further step up on the ladder of our career – it was a completely new ladder for us. Glacial Art's first step into the world of film and TV." On such a big budget production, anything but perfection would be a failure.
Preparing for the shoot was a dedicated two week task. Charged with the paradoxical mission to create an "ice henge" sculpture which would look both manmade and natural – to which the production team would later laugh over and simply say "welcome to Game of Thrones!" – the Matts set about their task. Over the next two weeks, the sculpture specifications would change a number of times and become much larger than their original models. The ice henge would consist of ten spikes of ice, three of which had to be replicated exactly, and a central ice altar; each spike was made from three separate pieces of ice which had been fused together and weighed around 300 kilos. In the end the collected weight of their ice henge – plus spares – was around six tonnes.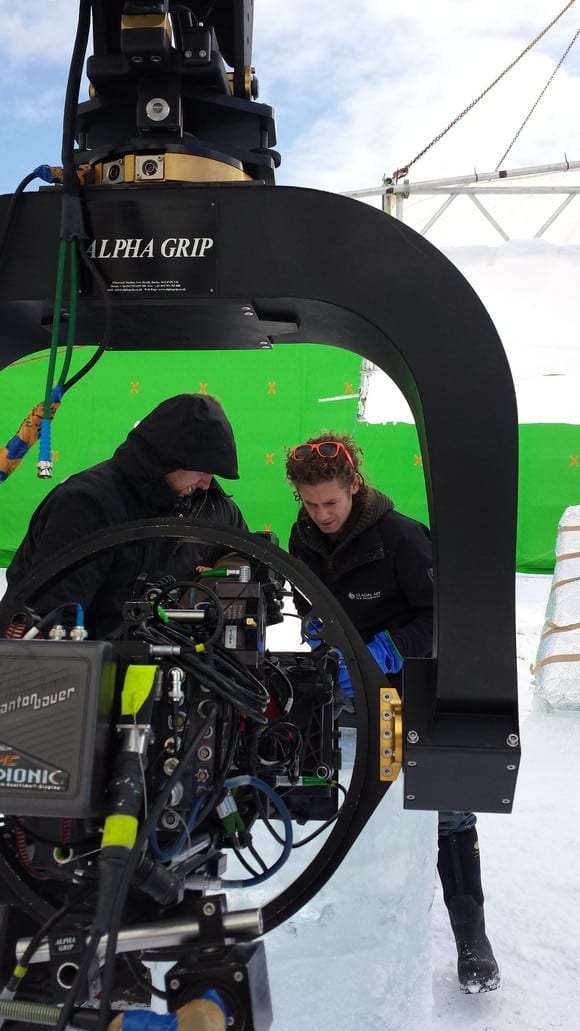 Mat works on the ice altar under careful scrutiny from the camera
Despite half of the show being set in a wintery landscape, the Game of Thrones production team had never before worked with real ice, and as such had no real expectation of how difficult Glacial Art's task would be. Things were made more difficult by having communication limited to emails, where they would receive steadily more specifications and refinements, until just two days before the team were ready to ship the pieces to Belfast for filming, another request came in; they wanted all of the spikes to be just a foot taller. Ever flexible, the Matts dutifully added an additional tonne of ice in total to the sculptures, and then were faced with the issue of finding additional transport to take on the extra weight. "We needed to be flexible," Mat said, "and have back up plans in place. For us that is crucially the ability to get extra freezer storage, extra blocks of ice and extra man power at the drop of a hat." But finally, the pieces were finished, wrapped in special cold blankets and transported to Belfast for the shoot.
With each spike weighing around 300kg each, forklifts and bobcats were necessary to move the pieces around the set. "No one had seen the ten ice spikes set up in a circle, not even us, but finally when the whole thing was set up there was a massive buzz on set and it was clear everyone was excited by the huge ice installation". But with the expectations that come with creating the basis for an entire two day shoot, Matty C and Mat had to remain on hand throughout the filming to keep the ice looking perfect. Keeping the mammoth ice sculptures frozen over two days of plus temperatures was a huge challenge for the team, but they used foil jackets with dry ice slotted inside between shooting. "We had to keep running in and covering all the ice in between each shot and then removing them again for filming. I had no way of knowing if it would all last for two days."
The constructed ice henge with altar in the centre
The set of the show was completely beyond any of the projects either Mat or Matty C had previously worked on, especially when the "snow guy" came to blanket the field in artificial snow. "It was like an entire football field walled off on two sides by a humongous green screen, and completely covered in artificial snow" Mat said of the shoot, which actually utilised the world's largest outdoor green screen. "There were two cranes overhead holding lighting and sun shaders; there must have been about thirty trucks and lorries, about a hundred people running around doing their various tasks. Not to mention the white walkers in full make up and armour. It was simply amazing to be a part of it all. The dream job."
Throughout the two day shoot, Matty C and Mat remained on the sidelines to keep their sculptures looking perfect. "We spent a lot of time creating a natural jaggedy texture to the ice," Mat says. "This starts to melt away quickly as the ice warms up." Using an assortment of tools including CO2 fire extinguishers, blow torches and chainsaws, the team had to keep the ice looking perfect throughout two hectic days of filming, but their efforts paid off with the director Michelle Maclaren, who also directed and produced the series Breaking Bad. "Michelle was very welcoming and friendly to us, and I guess she treated us as experts, asking our advice and involving us a lot in each shot. It was all kisses and hugs when the filming was over, and she told me she had greatly enjoyed shooting our ice and working with us."
Could the Game of Thrones project be a stepping stone into a movie career for the Liverpool-based Glacial Art Ice Sculptors? "Absolutely. First off it has now given us a platform to show what we can do, to prove we are capable of creating huge ice pieces, transporting them overseas, and maintaining them throughout a shoot. Secondly it has prepared us to be ready for lots and lots of problem solving." Despite being an exhausting and stressful process, the two day shoot reminded them of the reason they began this business in the first place; "Being behind the cameras, the light and the green screens just reminded myself and Matty C how enchanted we still are by movie magic," Mat told us. "Hopefully this will be a great starting point for Glacial Art's future in ice effects and ice props for the silver screen."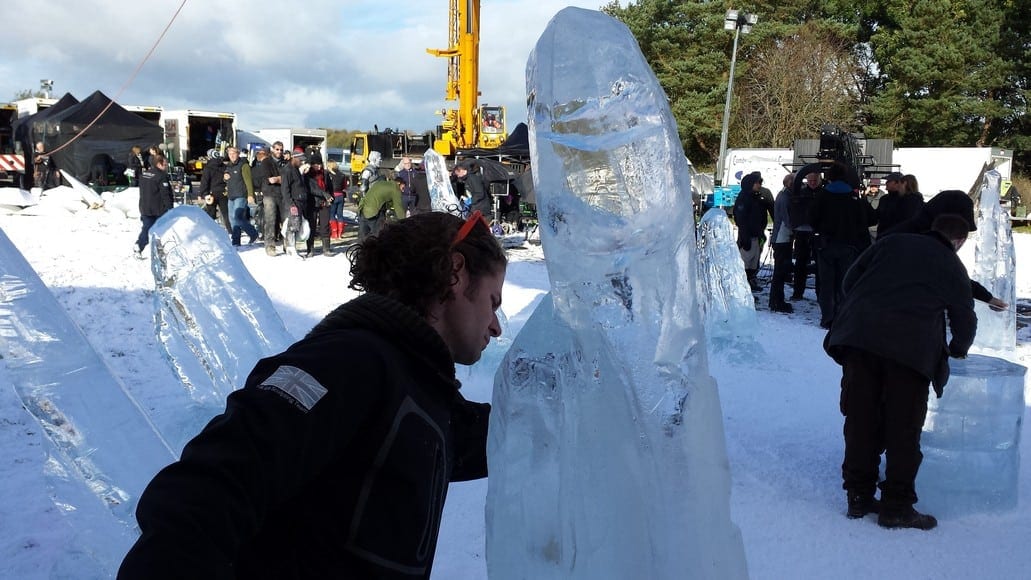 Ice can melt quickly on set and needs constant attention
In an ideal world, they would continue to work for Game of Thrones, which heavily features ice and snow landscapes; "They shoot some scenes over in Iceland, next to real Glaciers and frozen lakes. The chance to travel to somewhere like Iceland and carve some natural ice features into a dramatic set would be a dream job."
'Winter is Coming' – and Glacial Art intend to be part of the big freeze.
Glacial Art Ice Sculptors' ice henge will feature in the Season 4 episode "Oathbreakers" of the series Game of Thrones, airing on HBO on April 27th 2014.